Letter of Termination
Letter of termination due to policy violation is service to any employee as an intimation of termination of employment or of his services with effect from a given date due to violation of company policies. Since every employee of a company is bound to adhere to the company policy in letter and spirit therefore the company has the right to terminate contract with any employee in case the employee has violated the company policies. Letter of termination due to policy violation generally starts with the name of the company and address of the company, then the name and address of the employee as recipient who is going to be terminated, then date and salutation, then body of the letter highlighting details of the violations, date of termination, settlements if any, the procedure of appeal if any and in the end the name, title and signatures of the sender i.e. generally a human resources official.
Letter of termination due to policy violation is considered to be a notice from the company that terminated an employee on grounds of violations of any rule or policy conveyed at the time of joining company. This letter is used by almost companies of all sizes whether small or large entities. This employment termination letter is considered to be a notice only if details of violations are clearly mentioned in it. A single termination letter cannot be used for more than one employee because each employee must have violated different rules, so a customized termination letter  or given sample termination letter would be served for each different employee.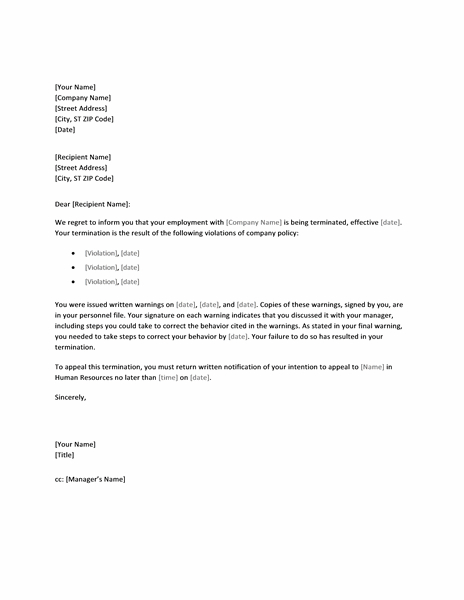 Click here to download letter of termination due to policy violation