A doctor authorization letter for no longer contagious is a letter that a doctor signs when a certain patient has symptoms which are not contagious. This letter can show that the patient can keep working or even going to school.
Contagious diseases pose a threat to everyone. Therefore, it is vital that a patient is checked properly by a doctor before they can interact with others so that their illness does not negatively affect others.
This letter is used in clinics and hospitals by doctors who provide it to patients who need to show their school or boss that their illness is not contagious. It is used by those individuals who have an illness that seems contagious, but in fact is not.
By this form that individual may be allowed to continue what they are doing without the threat of harming others. It is useful as others can know the medical history of a patient.
Tips to write the doctor authorization for no longer contagious
Indicate the name, address and city of the person the letter is addressed to.
The date should be present.
The name of the patient should be written stating that they are allowed to continue going to school or work without harming their peers.
The doctor's office details, including email, phone number, etc. should be stated in case any questions need to be asked by the boss or principal for instance.
You can get an idea from the sample letter provided below:
Sample letter:
[DATE]
To: (Details of the person the letter is addressed to, including name, address, city)
Dear (Recipient),
This letter is to tell you that (name of patient) has no contagious diseases and should be allowed to keep on going to (work/school) without the threat of harming (his/her) peers. [Name]'s symptoms, nevertheless can be confused for some (infectious illness), will not be a threat to others. It is not required to quarantine as well as limit (Name)'s interactions along with contact with peers based on (symptoms).
You can contact my office if you have any questions. You can contact at (information).
Thank you,
(Doctor's name and signature)
Preview of Letter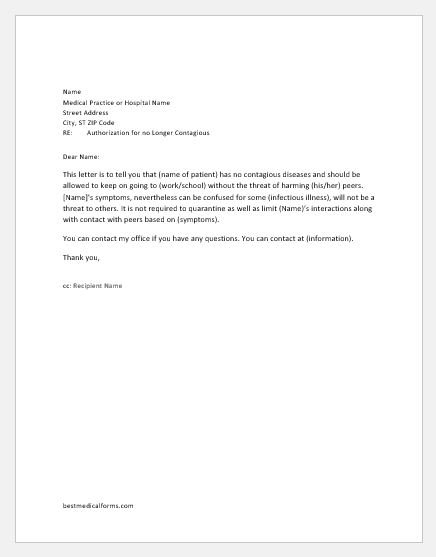 Format: MS Word [.docx]