Excuse Note for Work
#1
Dear [NAME], it is to notify you that Mr. [NAME] was under my care from July 19, 2018, to July 23, 2018. He was brought in an emergency as he was suffering from severe appendix pain at that time which got removed after a successful surgery. He will be able to return to work after a swift recovery. I, being his physician, recommend him to take rest for a whole week since surgery takes ample time to get recovered. Hospital documents are also attached to this note to strengthen my point. Thank you!
#2
Kindly excuse Miss [NAME] from work on Thursday & Friday two days. It seems as if some serious malady has attacked her and is still left uncured. I can foresee that the patient must take proper care of her and for that purpose, all the needed tests are to be done at the very first place. She needs two complete pressure free days in order to get her checkup done in the best possible way. Thank you!
#3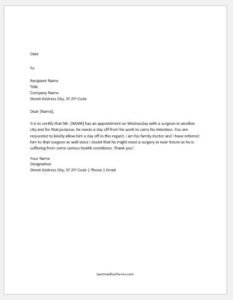 It is to certify that Mr. [NAME] has an appointment on Wednesday with a surgeon in another city and for that purpose, he needs a day off from his work to carry his intention. You are requested to kindly allow him a day off in this regard. I am his family doctor and I have referred him to that surgeon as well since I doubt that he might need a surgery in near future as he is suffering from some serious health conditions. Thank you!
---
Excuse Notes for Missing Work
#1
Dear Mr. [NAME], this notice serves you as a pardon letter on behalf of your employee [name of the employee], for being missing at the workplace for two days without bringing it into the notice of relative authority. As far as I witnessed, I can state that on January 5, 2018, he was brought in an emergency as he met a road accident.
We arranged a swift surgery and saved his life somehow. But he was under the effect of high potency medicines & was not in his sense at all for almost two days. Since he is out of danger now, but we strongly recommend him to take a complete bed rest for at least one-week & then move back to his normal routine.
It is also advised not to make his missing work a burden for him as he will not be in a condition to carry mundane routine as soon as he gets done with his rest duration. For your convenience, all the necessary documents have been mailed to you to give you a better idea of all this. Thank you!
#2
Dear Mr. [NAME], this note is to certify that the patient [name of the patient], visited me two months ago in a bad condition. She was suffering from severe stomach pain which caused her extreme discomfort. This is a gynecological condition which is resulted due to swollen intestine & is the root of many severe health conditions. Right after that visit, she is paying me almost a regular visit to get treatment for her disease. I am writing this note on her behalf to implore you to lessen the workload of her missing work only for a limited time span till she gets relief from the sessions of extreme pain.