It is human nature to investigate the reality of many parameters. The investigation brings the proof of whether the hypothesis is really like the way it is or it is just incorrect. People trust on those things that are provided with proof or evidence. Proving a thing also helps in more developing of mind hacks; as it shows the difference between what people think and how the thing actually is.
A proof of pregnancy is verification that the pregnancy has occurred. The proof of pregnancy is obtained after several tests. These tests have certain limitation one must follow before going for it. The result of the tests comes in a day or a week. Once the pregnancy is verified, a form is being made.
The form includes the date of birth, date of marriage, contact number, expected date of delivery, various treatments needed during the trimesters, previous medical history of the patient and much more.
Additionally, routine checkup dates are also being given. The diet plans and exercise routine to be followed are also given. All the routine checkups are confirmed with the attending doctor's signatures.
The proof of pregnancy letter is also important so that the female and her family should be aware of her medical condition. It can be used for keeping note of the date of delivery, for monitoring health in routine, for monitoring the baby's development stages, baby's growth and baby's age. It is also beneficial to deal with emergencies.
Sample Letter
This is an official verification to confirm a positive pregnancy test.
This letter confirms that Mrs. [NAME] is affirmatively pregnant with her first baby. She came to the [NAME] hospital to get her pregnancy test & ultrasound done on [DATE].
According to the tests she is 4 weeks pregnant & this way her delivery date is anticipated in March of the year 20XX. The ultrasound shows that the fetus is of right size & perfectly positioned. The mom to be is advised to increase her intake of water & eat a proper healthy diet to deliver a healthy baby. You are further advised to keep all your files at one place while visiting your physician so that any kind of inconvenience could be avoided.
Congratulations on this new & happiest phase of your life. Take care!
Print Preview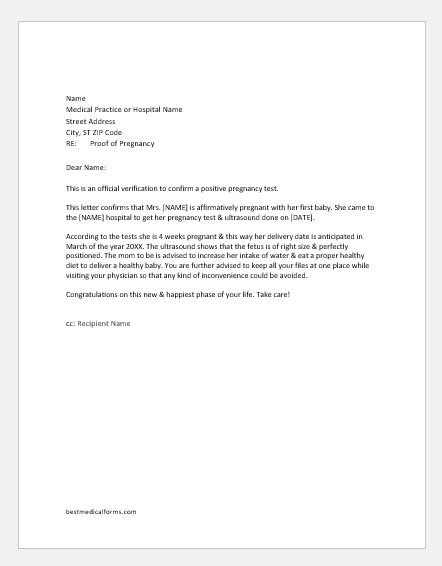 Format: MS Word [.docx] | Download