Subject: Medically clear for surgery
To Whom It May Concern
I, Dr. [doctor name], am writing to you regarding my patient's willingness to perform elective plastic surgery. [Patient name], born on [date of birth], wants to undergo [description of the elective plastic surgery]. I have carefully assessed [patient name] and found [him/her] medically fit for the surgery.
According to my evaluation and examination, [patient name] is in overall good health. He/she shows no noteworthy underlying medical conditions that could hurt this surgery. [Patient name] has been very cooperative and has given me a comprehensive medical history. There is no history of any past surgery, allergies, or medications he/she is taking.
All the preoperative assessments, including lab tests and all necessary imaging studies, have been conducted. [Patient name] results for all are within the normal ranges. Despite everything being normal, surgeries do pose potential risks. I have informed [patient name] of all the risks, benefits, and potential complications associated with surgery and have received his/her informed consent. I believe he/she is now both mentally and emotionally prepared for the surgery and fully understands the possible outcomes.
After knowing about the elective surgery, I feel confident that [patient name] will be able to tolerate the elective surgery, provided that the surgical team provides the appropriate preoperative and postoperative care. As his/her current physician, I would suggest going ahead with the surgery as planned.
Should you require any further information or have any queries regarding [patient name]'s medical clearance, please do not hesitate to call me at [phone number] or email me at [email ID]. I am always available to assist in any way necessary.
I am certain that your surgical team at [hospital name] will ensure a safe and successful procedure. I look forward to [patient name] having a pleasant experience with an exceptional outcome and a speedy recovery.
Thank you for your attention to this matter.
Sincerely,
[Dr. Name]
[Credentials]
[Medical facility name]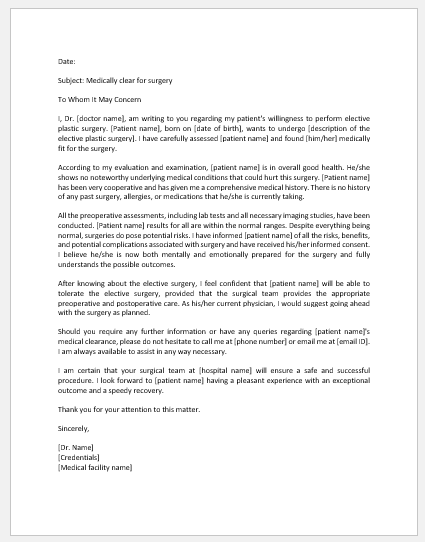 #2
Date:
Subject: Medical clearance for Air travel
To Whom It May Concern
I hope this letter finds you well. I am Dr. [doctor name], and I am writing to confirm that [Patient Name], [Patient Date of Birth], is currently under my care at [Hospital Name]. She is [number of weeks pregnant] weeks pregnant, and for work purposes, she is required to travel on [date of intended travel] via [airline name] from [departure city] to [destination city]. This will be a [duration of flight] hour's direct flight.
After a detailed examination on [mention examination date], I can confirm that [patient's full name] is in general in good health. To this point, her pregnancy is progressing as expected, without any hiccups. She has not experienced any complications, and her medical history does not indicate any future concerns that would prevent her from air travel at this stage of pregnancy.
Even with the pregnancy going ideally, I have still discussed the potential risks and precautions associated with air travel during pregnancy with [Patient's Full Name], and she is well-informed about the need to stay hydrated, move around occasionally during the flight, and follow any other guidelines recommended by the airline. Additionally, I have provided her with a detailed copy of her medical records, including information about her current pregnancy status and her due date.
As her primary OB/GYN, I hereby declare that [Patient's Full Name] is fit for air travel on the specified date. I would request that she be granted the required accommodations as per your airline's policies to ensure her comfort and safety during the journey.
Kindly feel free to reach out to me if you require any further information or clarification. I can be emailed at [your email information] or called at [phone number].
Thank you for your prompt attention to this matter. I look forward to [patient name] having a memorable trip with your esteemed airlines.
Sincerely,
[Your Full Name]
[Your Medical License Number]
[Your Contact Information]