What is a return to work form?
It is a document that is required to be completed by an employee after he has returned from leave. A return to work form is also used by doctors when they want to give some work restrictions to a patient.
The purpose of filling out this form is to inform the company that the employee has returned to work after a leave. The doctors fill out this form for the purpose of restricting the patient's participation in several activities.
For example, if the patient is restricted to drinking 10 glasses of water at the workplace, the doctor can do it through the return to work form. The form also enables the employee to provide details about his absence from work.
Any recommendations and adjustments needed by the employee are also provided through the return to work.
Another objective of using this form is to help the employee get days off from work. The employee can fill out this form and tell the company about his sickness and his intentions to come back after a few days of bed rest recommended by the doctor. This form clearly states the number of days a patient is required to stay away from the workplace due to poor health conditions.
It is important for the employer to communicate with the employee to discuss his health. If the doctor needs to communicate with the employee, he does so by filling out a return to work form. However, if there is something more complex, the doctor can meet the employer in person.
When the illness of the patient becomes a cause of concern for the employer, he can meet the employee in person and get updates. The return to work form is a formal way to prove that the employee is ill and is required to take a break from work.
This form includes details about the employee, such as designation in the company, number of days a leave is needed, date of returning to work, additional notes, who to report in case of emergency, and a lot more.
Preview and Details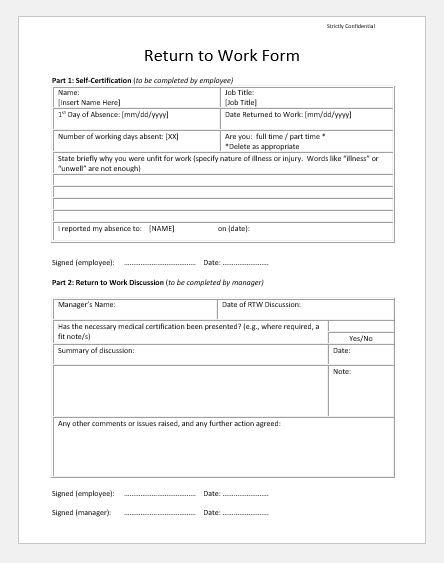 MS Word File (.docx)