What is a nurse notes form?
It is a document that is used by nurses to take notes. A nurse's notes are prepared in such a way that they collect the maximum information from the nurse. Those nurses that don't know how to give details about the health condition of the patient can use the nurse notes form.
Nurse notes are the best way to give a description of the patient's health. The medical aspects of the condition of the patient are very important to be known by the doctor. The doctors get the nurse's notes detailing everything he needs to know.
Many hospitals use nurse note forms to help the nurse in collecting information about the patient. These notes can be very helpful for the hospital. Many hospitals also download the blank nurse notes form template from the internet which not only saves their time but also provides them with a very practical and useful document.
The form for nurse notes is used to keep the nurses focused on relevant information collection. The template does not require the user to bother with anything about the layout, editing, and format.
However, if any information in the form lacks, the user has an opportunity to customize the template by adding the details which are more appropriate for the user.
What are the key elements of nurse notes form?
The main details added in the form are
Details about the patient such as name, health condition, patient number, and a lot more
The symptoms in the patient can make it easier for the doctor to understand the health condition of the patient
Names of medicines the patient is taking
Rare health issues that have been seen in the patient
Additional notes
These forms are given an important place in the nurse care objectives and plans. The purpose of the form is to enable the nurse to describe the condition of the patient to the doctor.
There is no possibility of forgetting an important detail when the nurse is using the nurse notes form template.
Preview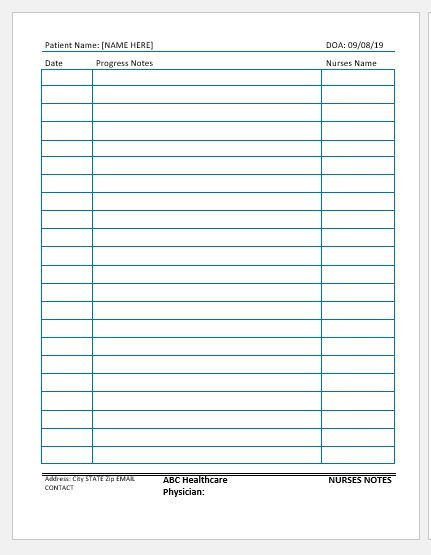 MS Word File [.docx]