A number of individuals are having healthcare issues and are on a variety of medications. A medication information and history form is a paper that is having all the information about this medication. This form includes the information about name of medication, purpose of medication, dosage of medication and the information about prescribing doctor. These are the necessary information concluded on a single form which can be shared by a patient with his friends and family members so that everyone must know that the patient is on medication.
Medication information and history form also helps them to know that the patient is taking proper medication and in case of emergency when the patient is in critical medical condition and unable to speak or tell about his medication, this information is very handy. This form gives a chance to patient to maintain a history of mediation prescription including all the necessary details about dose and usage and much more.
This form helps to maintain all information regarding physician, medication reactions if any and time of dosage, at one place. Whenever the patient visits a doctor, this form having all the information about current medications, previous medications acts as a comprehensive report for visiting doctor and helps him in knowing about your healthcare history and trends. It is advisable that whenever a patient visits a doctor he should present this medication information and history form to the doctor so that he as full information about your medication interactions and allergic reactions to different medications. Information on medication for the patient is a very helpful.
Here is a preview of medication information and history form: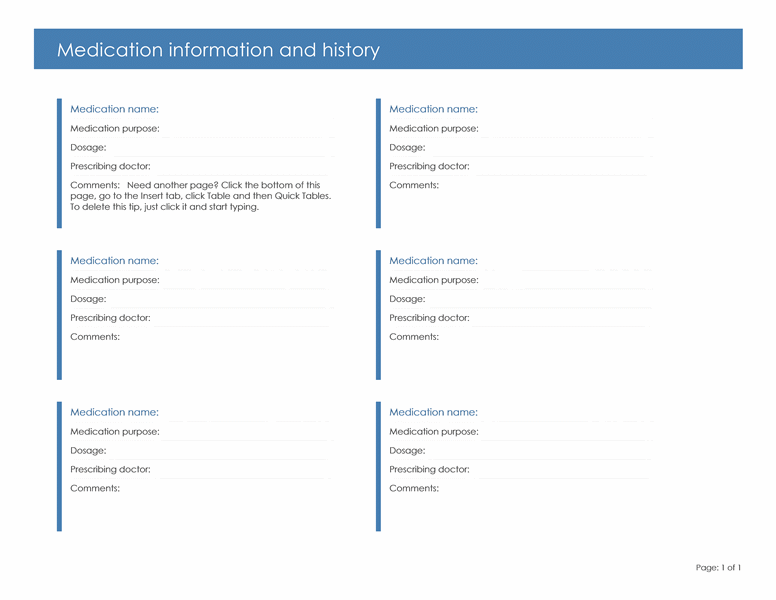 Click here to download medication Information and History Form