We all become ill sometimes and need to visit the doctor. Issues concerned with health, like medical ones, need serious attention. It needs to be treated with much care. There may be some instances where the doctor needs to give a letter to a patient so that some procedures can occur.
What is a Doctor's Consent Letter?
A doctor's consent letter is a letter that the doctor gives to a patient whereby some treatment or medical procedure needs to be undertaken. This may need to be done by a specialist, etc.
What to Include in a Doctor Consent Letter?
Heading– The letter can have a heading for example "Doctor Consent Form."
Address the letter– The letter needs to be addressed. It can be "To Whom It May Concern" if the person is not known. If the person is known, then state their name.
Purpose of the letter– Begin by stating what the letter involves. It can be a direct statement that states the letter's purpose. The name of the concerned person should be provided to whom you are giving permission.
Information about the person– Detailed information about the person should be given clearly. This can include their name, date of birth, address, etc.
Consent– The doctor needs to clearly tell what consent they are giving to the patient. It may be allowing them to undertake some medical procedures. It can be to excuse the patient from work, school, or some activity. It is important to write this clearly so that the reader knows what consent is being given.
The time that the authorization is valid for This is an important part of the doctor's consent letter. It needs to be clearly given when the authorization is valid. Tell me when the authorization will expire. It may be valid until one revokes it in writing. If this is the case, then it should be mentioned.
Details of the doctor– You can end with "Sincerely" and then state the name of the doctor, their address, signature, etc. Have a line that the reader can contact you if needed. For this, you need to give the contact details where they can do this. You can provide your email and phone number.
Advantages of a Doctor Consent Letter:
The advantages of a doctor's consent letter are the following:
Let a doctor provide authorization to the patient for any medical reasons
Let the patient have a proper letter that they can give showing that they have the doctor's consent
A doctor's consent letter needs to be drafted properly so that the reader knows what the doctor is authorizing. It is a professional and important letter that can be typed in Microsoft Word, keeping in mind the above tips.
Sample Letters
For work
This is to confirm that Mr. XYZ is now capable of returning to work since his infection has subsided. His health profile has been verified through the recently carried out standard medical tests and examinations at our health facility. He is no longer carrying any contagious infection and does not require further isolation.
Copies of all his medical reports have been enclosed. Kindly contact me on the provided number for further details.
For disability
John Doe is my patient at the XYZ Clinic of Physiotherapy. He suffers from lower limb impairment due to an accident that occurred 5 years ago. I would like to confirm that he is otherwise medically fit and does not have any other physical or mental disorder. He is capable of doing an office job without any threat to his own health or to his colleagues.
He should, however, be allowed to work in his specially designed-chair to avoid putting a strain on his lower back. He should also refrain from fieldwork for the same reason as this may slow down his physiotherapy progress.
His medical reports can be submitted upon request. Please email me at the provided address to place your request.
For work restrictions
My patient, Graeme Smith has just recovered from jaundice. He is now capable of re-joining the office but must observe the following work restrictions for the sake of his health. It should be noted that although he has recovered from the disease, his body is still weak and requires certain precautions.
He needs to refrain from fieldwork during the hot weather to avoid exposure to heat. Dehydration can have a negative effect on his already debilitated body.
2. He should not be assigned tasks that lead to physical exertion.
3. Business trips should be avoided as traveling can also cause exertion.
These restrictions must be observed for one month. A follow-up checkup after this period will determine if Mr. Smith needs to continue with these restrictions or can resume his ordinary work schedule.
Please call the provided number in case of any queries.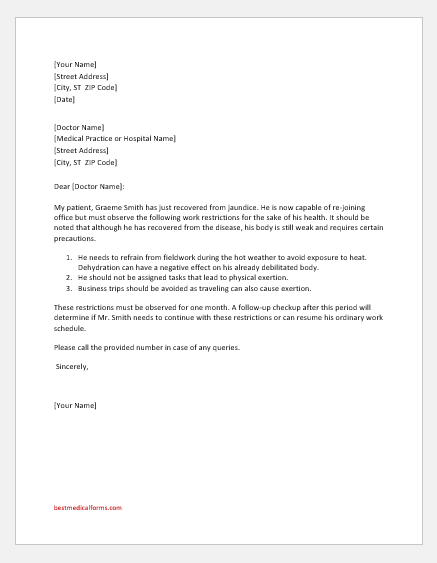 For Tinted Glasses
My patient, Aleeza Malik suffers from a rare genetic disorder that causes her skin to be hypersensitive to the sun. She needs to avoid sun exposure to the maximum. It is, therefore, necessary for her to have tinted windows in her car.
She should, accordingly, be allowed to do so despite the State regulation against tinted windows in vehicles. This exception needs to be made for the sake of her health.
I may be contacted at the provided number for her medical information.
For flying when pregnant
Mrs. XYZ is in her 30th week of pregnancy. She has maintained a healthy pregnancy up till now with no problems related to her blood pressure or other gestational tissues. She needs to travel to ABC by air due to a family emergency. As her gynecologist, I allow her to undertake this trip as my responsibility. I confirm that she is in a perfectly healthy state and is not going to encounter any health issues during her travel.
Kindly email me for further information regarding her health profile.
For work absence
This is with reference to my patient, ABC. He is suffering from chickenpox and must be allowed to take off from work until the disease has completely subsided. This is necessary not just for his own health but also for others in the office in order to avoid spreading this contagious disease.
Please find enclosed his medical reports.
For ESA
My patient, XYZ suffers from chronic depression following his divorce. As his psychiatrist, I recommend an Emotional Support Animal for him. The ESA must accompany him on his business trips when he travels out of town.
Please allow XYZ to travel with his ESA. This is very important to maintain the progress he has been making in his emotional recuperation.
For housing
This is to confirm that John Doe has a perfect health profile according to his recently conducted medical checkup and physical examination at the XYZ Health Centre. He does not suffer from any physical disabilities or mental disorders. He can, therefore, avail a shared accommodation without posing any health risks to his roommates or the landlord.
You will find enclosed a copy of his test reports. For further information, kindly email me at the given address.
For traveling with medication
I am writing this consent letter for my patient, Mrs. Jane Doe. She is currently under medical treatment for endometrial hyperplasia. This treatment requires her to undergo a medicinal course for a period of three months. Since these medicines are hormones in nature, missing a single dose may result in disrupting the entire treatment cycle. She must, therefore, be allowed to carry her medication with her during her overseas traveling trip with ABC Airlines.
Her medical prescription has been enclosed.
For school
As the physician of XYZ, I am pleased to confirm that his measles disease has subsided. The reports of his medical and physical examination have confirmed that he is now in perfect health. Going back to school is no longer risky for his own health or for his fellows. He may, therefore, rejoin school.
I have attached a copy of his medical reports. Please feel free to contact me for further information.