Making a living thing part of your life demands a lot of care and look after. Pets have been the most faithful part of people's life since human and animals have come to interaction. As the time passed people started to make the pets their part of the family and all the dream families have one or two pet for sure. When you have pets then it calls for your attention towards keeping their health up top. For this, you might need to take health rounds at the veterinary doctor.
Make a well-managed health plan for your pet using sample pet health record form
Use of pet health record form:
The pet health record form is a very useful parchment that helps keep the owner of the pet and doctor knew that what has been the health condition of the pet in the past and present. As the pet gets old their health start to come down and eventually they are put down. But for as long as they live, it is necessary that the record is maintained that keeps the check of their health issues and also the medication and that for how long it was continued.
This all information is to keep the diseases at bay that can sometimes develop in the pet and passed on to the humans they come in contact with. Plus if any health issue rises then you will be able to know if it is related to any disease or illness that happened in the past or is it the newly developed one and you need to treat your pet for it and using pet health record form for this purpose will be an excellent idea.
Here is a preview and free download options for Sample Pet Health Record Form:
Preview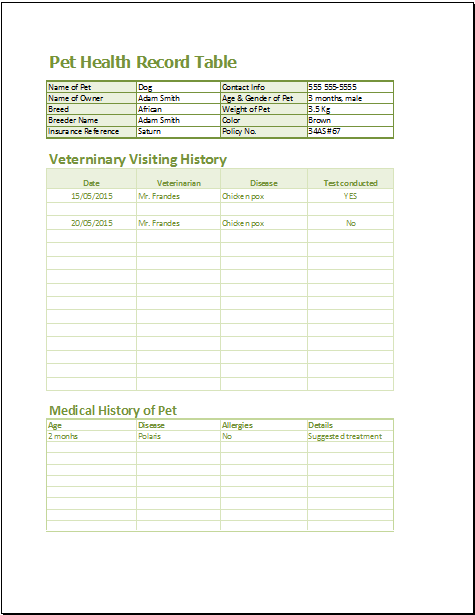 Pet Health Record Table
MS Excel (.xls) | File size 36 KB
Download
Download file in OpenOffice format (.ods)
OpenOffice Format
File size 18 Kb | Download