Periodic Physical Examinations
A physical examination report form maintains the health assessment record of a patient. This form is filled out by a doctor who carries out the physical examination of an individual and prepares a detailed report accordingly. The form does not contain these details. Instead, it consists of brief information so that an individual's record can be understood at a single glance.
Physical exam report forms are used for various purposes. They help in keeping a record of a patient's personal health history. This is very useful for future examinations, diagnosis or treatments. On the other hand, this form may also be demanded by an organization upon recruitment of new employees. Through the information provided by this form, an employer can judge whether a candidate should be hired or not according to his or her current health condition. At the same time, physical examination report forms also play an important role by maintaining the health assessment record for clients in insurance companies. This form may also be demanded by the concerned authorities upon request of immigration to another country.
Owing to the important role this form plays, it is essential to provide accurate information. Therefore, doctors should be careful while filling out physical examination report forms for various individuals. By signing the form, a doctor takes responsibility for the provided information. Any discrepancy or false information may cause the doctor to be held responsible which can turn into a matter of grave concern for him or her. Therefore, all the three processes – conducting physical examination, preparing a detailed report and filling out the physical examination report form – should be carried out very carefully.
---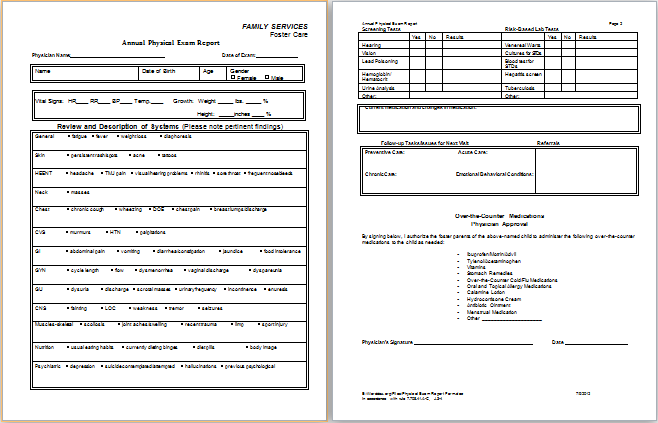 File Format: Microsoft Word | File size 58 KB | Editable | Printable | Download
---