Medication Prescription & Details
A medication prescription form is a simple yet important piece of paper. It consists of names of medicinal drugs prescribed by a licensed doctor to a particular patient. Upon showing this form, an individual can purchase prescription medicines from a pharmacy according to the dose recommended by the physician. However, a medication prescription form is not required for over the counter medicines.
The format of this form may vary but the provided information is same in all cases. Mostly, it consists of sections or columns for the names of medicines, their prescribed dosage and the number of days for which they have been prescribed. This form is not only important for purchasing medicines, but also for providing medication to patients on time. In the latter case, the form also includes columns for the time of medicines and days. In this way, the nursing staff or attendants of a patient can make sure that no medicine is missed.
Prescription Form
A medication prescription form can also be kept as a record by patients after their recovery. In this way, it can be helpful for future treatments and medical examinations. It can help individuals remember names of the prescribed medicines as well as the dosage for future reference.
This form is filled out by licensed doctors. Only they have the authority to prescribe medicinal drugs to patients after properly diagnosing health problems. In some cases, medical prescription forms also consist of sections for the side effects of the prescribed medicines. This helps patients or their attendants be prepared for the possible problems.
---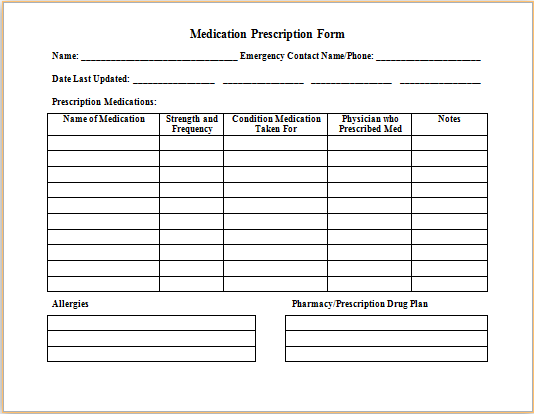 Medication Prescription Form
Microsoft Word document file | File size 33 KB | Download
---