Baby Supplies List: Care & Management
Shopping for the newborn baby is a very exciting yet confusing time. You need to balance between your requirements and budget. Although you would feel like buying all the attractive baby things in baby gear shops you really need to buy the essential stuff first. We won't advise you to just buy formula, diaper, and a blanket either because you deserve to enjoy your baby and your baby deserves the comfort of the latest variety of baby gear available.
So the most viable solution is using a baby supplies list which includes all the necessary items that would make you and the baby's life easier and comfortable.  The broad categories are as follows:
Furniture; this includes the crib and dining chair and rocker etc.
Audio and video monitors; this includes walkies talkies and cameras etc.
Food; the formula for the first few months and solid food for later (this is not a one-time expense).
Personal hygiene items; baby toiletries and diapers and towels.
Clothes; clothes and undergarments (as cute as these are but avoid buying lots as the baby would outgrow them every other month).
Bathing tubs and seats.
Baby carriers; car seats, strollers, baby carry bags and baby carrycots etc.
These supplies are used for the first year of your baby. Some expenses are one time while others are ongoing. If you plan your purchases according to this list of essentials then you would have the time and monetary resources to enjoy your time with the baby.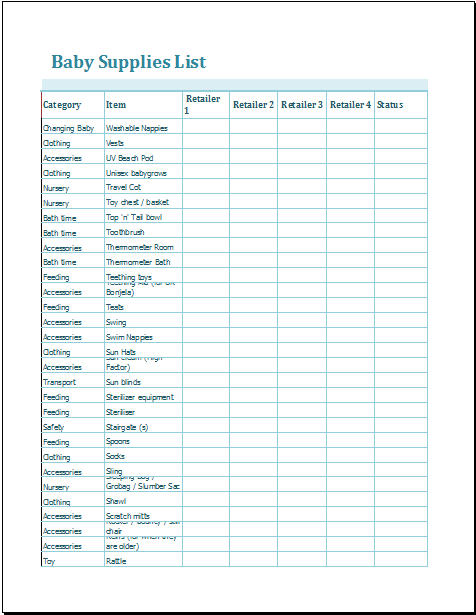 Baby Supplies List Template
MS Excel (.xls) | File size 40 KB
Download
OpenOffice Format (.ods)
File size 17 Kb | Download