Blood sugar tracker is a worksheet template that is utilized to log your levels of blood sugar and it will look like a chart that records your blood sugar levels over a certain period of time. With the help of this tracker, you can record the results of your blood sugar test and can compare them with the recommended lower and upper blood sugar levels over a period of time.
You can also mention your daily diet and exercise activities along with these levels so that it could be found that how much your diet and exercise affect your high blood sugar level.
To know your lower and upper levels of blood sugar you must consult a doctor and the doctor must recommend you to stay close to recommended levels. Every individual must know about his/her low sugar and high sugar levels.
Your doctor can help you with a good customized schedule for measuring your blood sugar levels through the given tracker.
Generally, sugar level can be checked any time of the day but it is recommended to check either before meals or before going to bed at night. In the blood sugar tracker sheet, you should enter the time and date of the blood sugar low or high level and also about the exercise you performed and food you ate or other relevant things that can affect your sugar levels.
If your doctor has recommended you a proper exercise plan then ask your doctor the best time to check your blood sugar levels so that the effects of exercise can be measured. In short, this tracking sheet is a great help for you to track your blood sugar levels.
Preview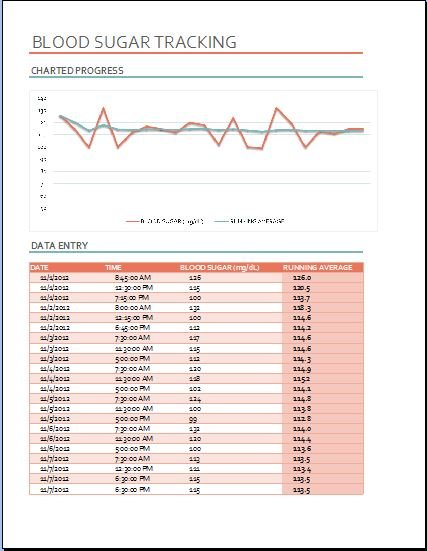 Preview: Available | Format: Microsoft Excel
File size: 30 Kb | Download