Student Medical History Form
A student medical history form maintains the health record of students, teachers and other employees of the institute. It consists of various sections to include important information about individuals. This information comprises of personal data, health history, special medical issues and emergency contact numbers. It is also mentioned on the form in case an individual is allergic to certain food items or medication. In addition, a person's particular blood group is also mentioned. This is very important information for providing first aid to children or employees of the school in case of emergencies. A medical history form also helps if a student has to be rushed to the hospital by the school staff without his or her parents or guardian.
In the case of children, it is the responsibility of their parents or guardians to provide accurate information in the student medical form. Therefore, it is recommended to double check before signing the form at the end and submitting it to the authorities. The form might be requested at the time of admission of a student or later.
This form may also be used by students to be exempted from certain school activities on medical grounds. For instance, a child suffering from a physical problem can be exempted from the gym class or other physical activities. In this case, a proper application is also required. Similarly, the school's employees can also ask for certain exemptions if their health condition does not allow them to perform specific duties. However, inaccurate information should not be provided in order to avail this benefit.
---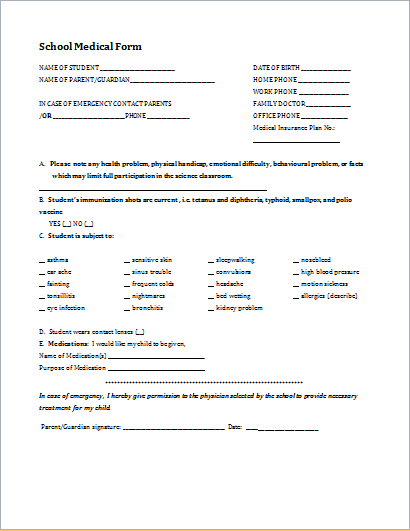 School Medical Form
Microsoft Word document file | File size 29 KB | Download