Health Assessment Form & Questionnaire
A health assessment form consists of the complete health evaluation of an individual. These forms play an important part in various organizations where a record of the health assessment of employees is required to be maintained. Similarly, insurance companies also maintain this record for their clients. Other situations in which this form is required include immigration to another country, recruitment in the armed forces and annual medical checkups.
This form provides complete information to a physician regarding the health condition of an individual. This is very helpful in carrying out a treatment or diagnosing a disease. Prior to filling out this form, proper health evaluation of an individual has to be carried out. This involves conducting various tests which can reveal health problems. The health assessment form does not contain details of any tests or physical examinations. Instead, it contains brief information about any diagnosed problems. In addition, this form also contains an individual's medical history.
A health assessment form contains different sections. It may consist of one or more pages according to the amount of information required by an organization. Typically, it contains an individual's personal information, family history, personal health history and physician's remarks. A brief summary may also be included about an individual's overall health condition and suggested treatments or therapies. At the end, the form is signed by the physician. It is, therefore, the physician's responsibility to provided accurate information. This is particularly important for insurance companies as well as for companies maintaining a record for employees.
Employee Health Assessment Form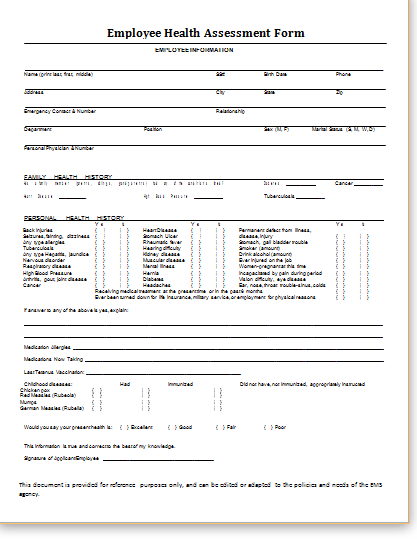 Employee Health Assessment Form
Microsoft Word document file | File size 105 KB | Download
Health Assessment Questionnaire
Health Assessment Questionnaire
Microsoft Word document file | File size 80 KB | Download
---