In today's era of information technology and media revolution people are very much aware of their rights and benefits in all walks of life. Whether they are consumer rights, human rights, labor rights or any other welfare and social benefit, there are several organizations and companies that specially work to enhance awareness about these programs in the general public.
Disability is one such unfortunate reality which makes you entitled to some kind of insurance or social and monetary support. Many private and public organizations provide this kind of disability benefit to their employees who meet the stated criteria.
For this purpose the Human Resource department of the company establishes certain guidelines and offers a disability claim form that can used to achieve your entitled benefit.
The disabled person can download the form from the websites of their particular companies or get them physically from their human resource departments.
There are certain established requirements that any disabled person must meet in order to submit and get some action on the disability claim form. These may include:
Attachment of the hospital bills and medical invoices along with the disability claim form
Certification of a medical practitioner or insurance company
Any other specific information or document stated by the company
The disability form must be submitted in the specified period of time.
After submission if there is no execution on his/her case or no action is taken on his insurance or disability claim he has the right to turn to legal court for justice.
He/She can file a complaint against the company in the court of law and carry out legal proceedings against the company for a certain amount of penalty or fine.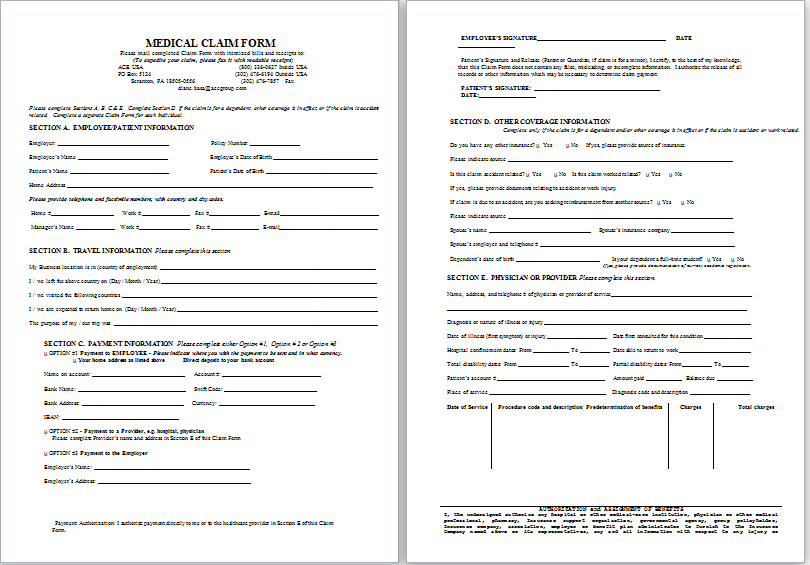 Disability Claim Form Template
Microsoft Word (.doc) | File size 55 Kb
Download
OpenOffice Format (.odt) File size 25 Kb | 
Download
---