The form mentioned above does exactly what it names states, i.e. it tells an employer that the doctor has stated that a certain employee is not fit to work for many hours due to the health condition he has.
This form may be found in clinics, hospitals, etc. It may also be found at certain workplaces and may be given by the employer to the employee to sign in with their doctor when they are sick.
This form can be later saved by the employer so that they have a record present. The employer may after some months want to know why the employee worked fewer hours, with this form they can find out why.
Tips on composing this form
The complete details of the concerned employee need to be stated. This will include name, date of birth, physical address, phone number, email, etc.
The health condition of the patient needs to be indicated and why they work hours need to be restricted.
The doctor's details need to be stated. This will include the doctor's name and contact details, i.e., phone number, physical address, email, etc. This part is important as the employer may want to contact the doctor's office for more details. They will, therefore, need to have the doctor's contact details.
The date needs to be stated so that the employer has a record of when the employee was not able to work their allotted hours.
For how long the employee's working hours should be restricted needs to be stated, this may be till the health condition has improved, for a few months, etc.
It is not our fault when we get sick, and employees may still need to work when they have a health condition to provide for their family.
The above form is therefore helpful to the employee as the doctor is telling the employer that the employee can work, but only for a restricted amount of time. The employer may feel pity for the employee's health condition and not cut their pay due to their restricted working hours.
Print Preview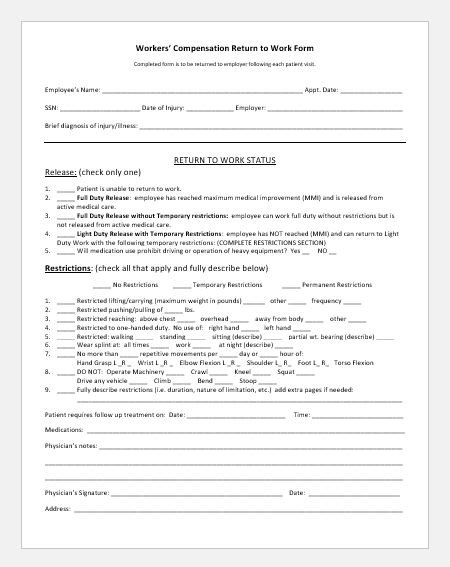 Format: MS Word [.docx] | Download