A very simple rule for effective and constant weight loss is that the number of calories consumed must always be less than the number of calories burned. If one simply understands and believes this simple rule, losing weight and extra pounds of ugly fats will never be a problem for anyone. This rule applies and shows results no matter how obese you have become and how difficult your weight loss journey has been.
What is calorie amortization?
The concept of calorie amortization is widely used in the various weight loss programs and before jumping to the schedule, it is really important to know the concept of amortization. By calorie amortization, we mean that we are breaking down the calorie intake in a day into smaller proportions so that the desired results are achieved without exceeding the calorie limit for that day. This calorie intake is then further rescheduled every week or every month depending upon the schedule and goals we have set, or our fitness trainer has set for us.
Significance of calorie amortization schedule
It is really helpful to keep a schedule while we are on a weight loss journey. If we schedule our daily, weekly and then monthly calorie intake, it keeps us on the track for a longer period of time as compared to the weight loss that is started without any schedule.
It also keeps us updated the energy requirement of our body according to our new weight which we achieve by workout and dieting. Calorie amortization is widely based upon the information about the body's needs that change with time in a weight loss journey.
This is also helpful in keeping a record of the weight and calorie intake which in turn is really helpful in assessing the body's changing demands and requirements. A person who is initially unaware of his body is now fully aware of what his body demands and what calories he needs to stay healthy and on a proper diet program.
Calorie amortization schedule
Now, let us have a look at the calorie amortization schedule because it definitely needs a bit of explanation before we can begin to use it. Usually, it is recommended that the calorie amortization schedule is used and maintained by a fitness expert. But anyone who is very much interested in gaining knowledge of calorie adjustment can take a look and then begin using the schedule himself.
In a typical calorie amortization schedule, name of the person, his height and current weight with body mass index is mentioned at the beginning. This gives us a calculation of the daily energy requirement of the body in terms of calories.
Now, this total amount of calories is broken down into smaller proportions and each meal is designed or planned according to the calories reserved for a specific meal.
It is very important to keep in mind during planning the schedule that the calories taken in the form of food must always be less than the calories burnt. The daily caloric requirement is changed once we begin losing weight and a new caloric goal is set in the schedule.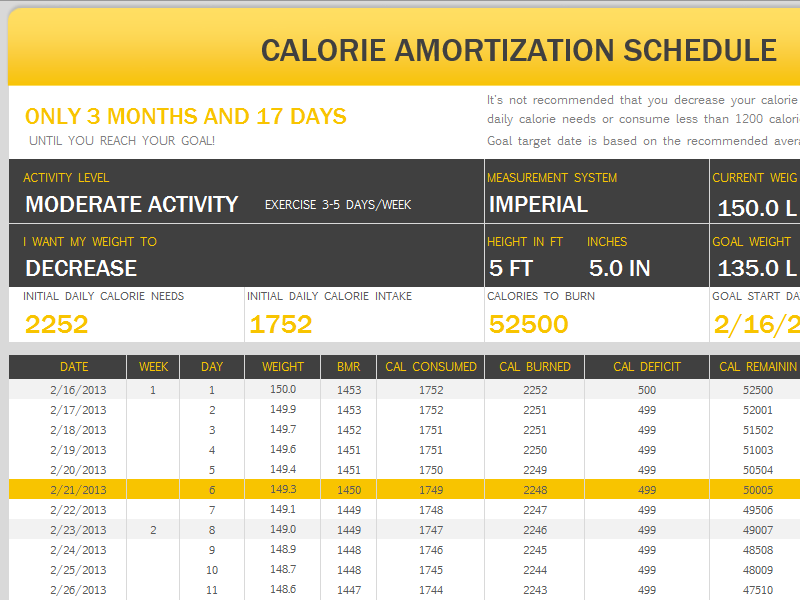 File: Word (.doc) 2007+ and iPad Size 28 Kb |
Download
---