It is natural for parents to show concern about their babies when they are away. The babysitting information form ensures that it contains all the details needed by the babysitter to take care of the baby in the absence of parents.
The information provided in the babysitting form lets the babysitter know where you will be, how he/she can access you in hours of need, the time of parents' arrival at home, what the parents expect from the babysitter, and a lot more.
Babysitters are professional caretakers taking responsibility for the child's care when the parents have to travel to another city for business, for attending an event, and for any other reason. It is the job of the babysitter to fulfill all the needs of the baby in the absence of parents.
They do it to assure that they are doing everything that the baby needs when the parents are not around. The daily routine of the kid can go smoothly if the babysitter is efficient enough to do everything in a timely manner. The babysitter information sheet should be filled out and submitted to the daycare center before leaving the baby there.
What is the babysitter information sheet?
The babysitter information sheet is a professional document that is used by the parents or guardians of the baby when they want the babysitter to provide care and babysitting services to their baby.
What should be included in the babysitter information sheet?
This sheet should include the following details:
The place where parents are going
Duration of time for which the parents will remain away
The contact details of the parents and the location where they are going to
The basic details of the kid who is being given babysitting services
The address and contact details of the center where babysitting services will be provided
The name of the nearest hospital in case the baby needs medical treatment in emergency
The tasks of the kids the babysitter is required to complete
Other details about the kids such as basic necessities, health problems (if any), things the baby is allergic to, and a lot more
Importance of babysitter information sheet
There are many reasons that make the use of information sheets by the babysitter inevitable. The babysitter can contact the parents in case of an emergency through the multiple contact details provided in the information sheet. The parents always stay updated about their baby's condition. The parents are also able to make everything clear about the babysitting services which are needed to be rendered. There is no confusion left when the information about the child is provided in written form.
The babysitting information form also tells the babysitter about the activities that the baby has to do throughout the day. This provides an ease to the babysitter. It becomes very convenient for the parents of the child to leave the child to a babysitter when they have to go somewhere where they cannot take their baby with them.
Preview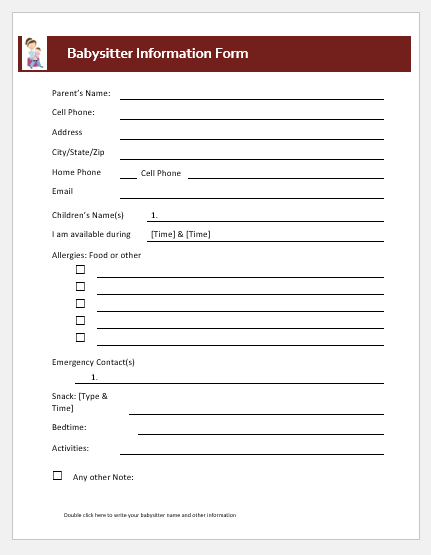 Format: MS Word [.docx]