Authorization to release healthcare information can be given by any patient to his healthcare provider for different purposes. These purposes include research and information for other patients or the general public.
For research purposes, a patient generally offers himself as a test case and gives his doctor the authorization to release healthcare information. In other cases, this healthcare information is used to help other patients and to explain the relevant health information.
Since personal healthcare information of any patient is something very secret and the medical provider cannot disclose or share this information without prior approval and authorization of the concerned patient, therefore a proper form is used in case authorization to release healthcare information is required.
This form generally contains the information about the patient name, contact details, and authorization to specific or complete healthcare information.
It is also mentioned about sexually transmitted diseases that whether they should be disclosed or not. Healthcare information technology is also a modern-day topic to study.
The content of authorization written on the form must be in the plain simple language. And once the authorization form is signed, a copy of the same is given to signee.
There are no hard and fast rules that who will draft this authorization form so anyone including researcher or the doctor can draw this form.
If the authorization is for research studies, the form works as a consent by the patient to participate in a research study and in that case some description of the study, risk, and benefits involved should be mentioned properly. It should also be mentioned that how the information will be kept confidential during research studies.
Here is a preview of authorization to release healthcare information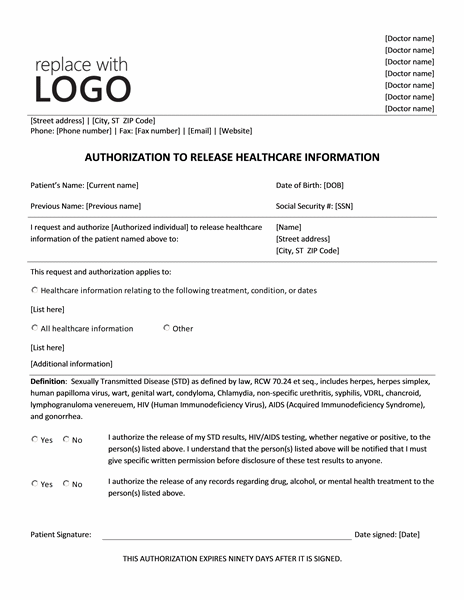 Here is a preview of another form, you can download it by clicking on the link given below the form