Physical therapy also known as Physiotherapy is a form of health care that improves patients' physical conditions. It has gained a lot of popularity in the recent past. Many countries have been producing specialists in this field called Physical therapists or Physiotherapists.
How does Physiotherapy Work?
Physical therapy includes proper history taking, complete physical examination of the patients, and then dealing with patients' concerns. A diagnosis is made, and physical intervention is done in order to treat the patients. The patient is educated about the management course and its implications.
Methods of Physiotherapy
Physiotherapy is a diverse terminology that includes various procedures for treating different problems. It is not a one-time process; the patient has to be compliant throughout the course of management. It includes physical exercise, massage, joint mobilization, muscle stimulation, shockwave modality, electrotherapy, and kinesiology. It also helps in the rehabilitation of patients which is the restoration of anything to its original state.
Conditions that Require Physical Therapy
Many doctors around the world refer their patients to a Physical Therapist for treatment in addition to medications. Patients with chronic pain, joint stiffness, muscular spasms, arthritis, and soft tissue injuries are the most commonly referred ones. In addition, people with musculoskeletal impairments and gait abnormalities also get benefit from Physiotherapy.
Benefits of Physiotherapy
Physical therapy is not a one-time process; the patient has to be compliant throughout the course of management. The patient should follow the regimen prescribed to him for best results. Here are a few pros of taking the treatment:
Decrease pain.
Improve joint movement.
Eliminate spastic contractures.
Rehabilitation in burn patients who are developing contractures.
Recovery from physical weakness and neurological diseases.
Treat sports injuries.
Improve balance and coordination.
Manage vascular diseases.
Improve women's health, especially during pregnancy.
However, every treatment method is not suitable for all patients alike. A proper plan must be made after analysis of the problem by consultation with a Physical Therapist before beginning the management or it would not be effective.
Physiotherapy Consent Form
Before initiating physiotherapy, written permission has to be taken from the patient regarding the management plan. It is an essential part of treatment as the patient's body has to be physically manipulated and necessitates proper documentation of the process to be undergone. The main factors to be mentioned in the Physiotherapy Consent Form are discussed below:
Introduction of the patient; name, father's/ spouse's name, age, sex, address, and contact number.
Presenting complaint and history of the patient, findings of clinical examination.
Name and credentials of the referring physician.
Emergency contact/ next of kin person.
Description of the procedure to be done and its all benefits and risks.
Duration of treatment from the start date.
Level of exposure of patient and assurance of privacy and confidentiality
Acknowledgment of the fact that physical therapy is an adjunct to medical therapy and not a substitute for it.
Name and signature of the patient.
Sample Consent Form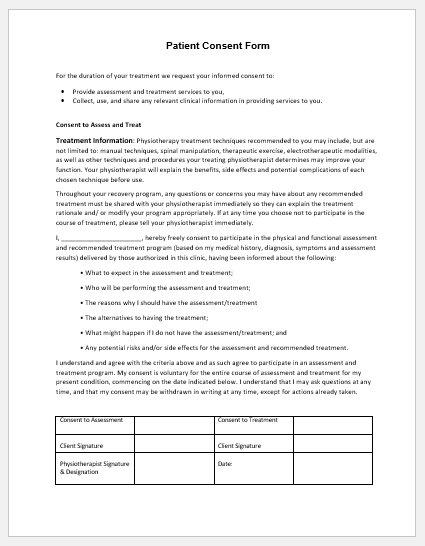 Source: https://bcphysio.org/
Consent to the Release of Information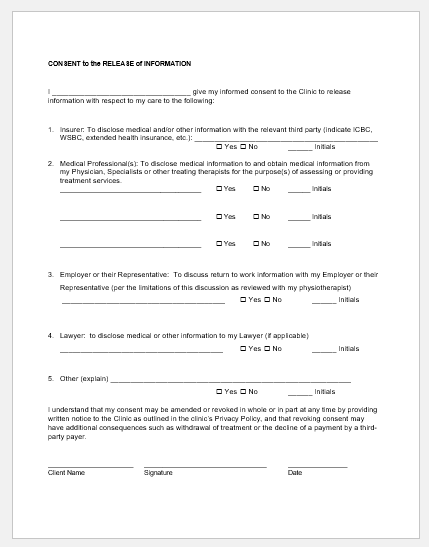 Source: https://bcphysio.org/