Getting you house clean is an important part of house living. Sometimes you do it yourself and sometimes you hire professional or cleaning services of other individuals for house cleaning. House cleaning checklist is a template that is used to track and organize your house cleaning chores and is consisting of daily, weekly, monthly, seasonal or other customized list of house cleaning chores. Generally this checklist is divided into four sections. Professionals providing house cleaning services are available easily around all regions.
First section is daily that includes house cleaning chores like laundry, dishes, straighten up, clear clutter and file papers.
Second section is weekly that includes laundry (bed sheets, towels), dusting all around, cleaning bathrooms and washrooms, vacuum cleaning, mop floors and walls, clean kitchen appliances and utensils, take out garbage and free the dustbins, check refrigerator for special food, medicines and water plants.
The third section is monthly that includes ceiling dust, pedestal and other fans, dusting of ceilings and all wall corners, clean walls, floor, roof and light fixtures, clean window coverings inside and outside, vacuum cleaning under and all around of furniture, wash inside and all corners of windows, clean appliances, defrost freezer, check food in refrigerator and poultry for expiration of dates.
The last section of this house cleaning checklist is seasonal that includes cleaning of gutters, clean inside of windows including screens, touch up paint on walls, clean grill, furniture, clean exterior doors, inspect air conditioners, clean fireplace, clean refrigerator, organize and clean closets, all drawers, check every smoke detector, replace batteries with the old one, clean dyer vent system.
In short, the main objective of clean house checklist is to make systematic cleaning of your house on daily, weekly, monthly and seasonal basis and nothing left that leaves a bad impression about your house cleaning.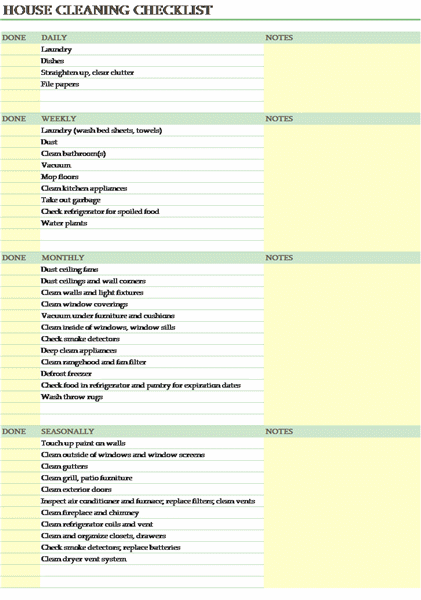 Click here to download house cleaning checklist template