Blood Pressure & Tracking Charts
Hypertension or blood pressure is not only a very serious and life threatening condition in itself, but is also an indicator for some other life threatening conditions like stroke, heart, kidney or liver failure. If you have hypertension or some condition in which monitoring your blood pressure is vital, your doctor might ask you to maintain a blood pressure tracking chart. Even if the doctor has not asked you to maintain a chart, you might want to do it for your own record so you can monitor your blood pressure for life style changes you need to make accordingly. There are few ways in which you can maintain this chart, one is to regularly go to a clinic and get your blood pressure checked and note it down but if you need to do it twice or thrice a day then going to a clinic can be hectic. To check your blood pressure at home you can purchase different kinds of blood pressure monitoring apparatus, an automatic apparatus that can be used on your arm and an automatic apparatus that can be used on the wrist. Do keep in mind that the authenticity of these automatic apparatuses is questionable when compared to the manual one.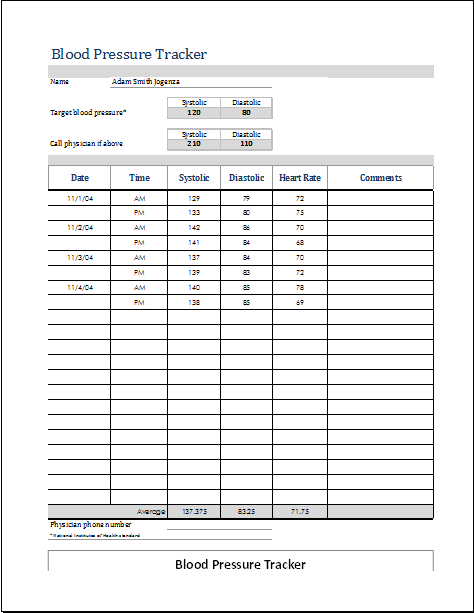 A blood pressure tracking chart is where you maintain a record of your daily blood pressure, it can be done once, twice or thrice a day as per your requirement. The tracking chart contains the patients name, his/her age and gender. The time when the reading is taken and the numeric value of the reading. The reading of your pulse rate is also included in this chart as blood pressure and pulse rate are inter related.
This chart is not only used for diagnosis but also for medicine adjustment and scheduling of appointments with your doctor.
MS Excel Format
File size 37 Kb | Download
OpenOffice Format
File size 20 Kb | Download