What is a new patient entrance form?
When a patient visits a doctor for the first time, the doctor will need to know all about the patient. The new patient entrance form can help them do this.
This form can be found in medical offices and will state information concerning the new patient; this can include the patient's insurance coverage for instance. It is, therefore, an important form as it allows a doctor to know more about the new patient.
Tips on composing the form
The date of consultation can be indicated.
State the name of the doctor, who the patient was referred by and case type.
Details of the patient's injury or even illness need to be recorded. This needs to include date, location along with other details.
Details of any prior treatment or also first aid already administered needs to be present.
The patient's registration details need to be recorded. This will include the name of the patient, address, city, mobile number, home number, work number, email, SS Number, state, ZIP, etc.
An area for notes and comments can be present.
The insurance details also need to be present so that the doctor has a clear idea of where and how the patient is insured. This will include the insured's name, relationship to the patient, employer, address, city, state, Zip, insured's date of birth, since when they have been insured, phone, supervisor, etc.
The primary and secondary insurance company details can be stated. In this, the address, city, contact, Insured's ID needs to be present. The claim and group of the insured can be stated. An area dedicated to notes can be indicated.
From the above, it can be gathered that a new patient entrance form is a vital form that should be composed keeping in mind all the important details, like the patient's insurance, past diseases, etc.
Anything that is important for the doctor to know before they start looking at the patient. This form should be composed in such a way that it can be easily read by the doctor before the doctor meets the patient. It should be simply formed so that the patient can also easily fill it in.
Preview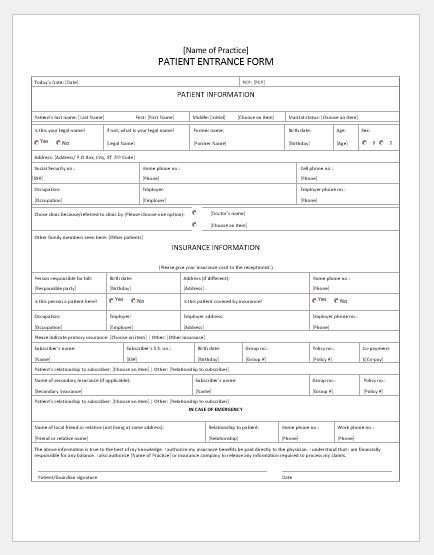 Format: MS Word [.docx] | Download