Life is uncertain. You plan for years and yet the next second is unpredictable. You plan to travel the world and yet just one incident makes you unable to move the next step. That is how life is. And you know what, it still goes on. In spite of all the unpredictability, vulnerability, and uncertainty, life is totally worthy of living. It is totally worth planning. It is the right of every living creature to have a happy life for whatever years they got in their hands.
But as said, emergencies strike and sometimes they strike really bad. It still doesn't mean we should stop taking precautions and let fate take over our lives to treat whatever it likes. No, making little preparations before emergencies strike us makes the difficult path a bit easier. One of the very simple ways to minimize the effect of emergencies is to keep an emergency contact form with you as well as at your workplace.
Why keeping an emergency contact form is so important?
Emergency contacts to be mentioned wherever asked is very important as mentioned earlier as it is one of the ways to minimize the disastrous effect of the actual emergency. It is mostly less problematic at the workplace because, in case of any medical or other emergencies, your colleagues attend to you very well. If it is about shifting you to the hospital, they do it themselves. But still, some contacts need to know your current situation.
Imagine a situation in which you are struck by a road accident (God Forbid), and you were alone or even with family or friends. You are unconscious or semi-conscious and unable to respond to the people on the road who attend to you or even the ambulance service. In that case, if you have a pocket-sized emergency contact number, your identity can be easily maintained, and your loved ones are timely informed to come and see you.
If you don't have an emergency contact list, you will have to wait for days for your family to reach you.
Emergency contact form
What information has to be mentioned in an emergency contact form is another important concern. In a sample form like this, you can get a good idea of what to fill in the form.
First of all, mention the date when the emergency contact form is being filled. Write your personal details including your name, age, gender, and work address.
Your complete home address is also required because, in case of an emergency, any possible contact can be helpful.
Contact number and email address should also be mentioned for correspondence.
It is ideal to mention at least two emergency contacts in your form. If one contact is somehow, out of reach, the other one can be contacted.
The primary contact is the person you want to contact first in case of an emergency. His or her name, address, relationship, and complete contact details are required and carefully mentioned in the form. Mention the secondary contact details in the same way.
Preview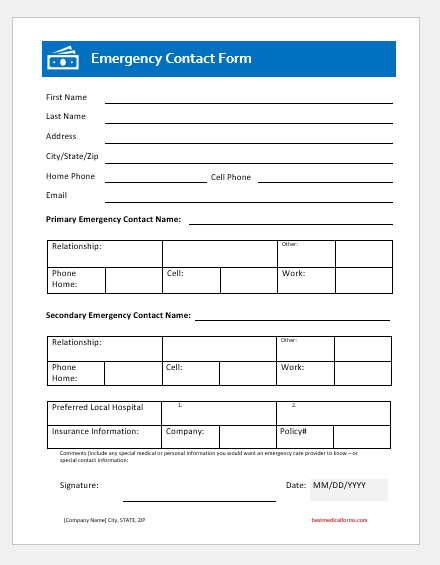 Employee Emergency Contact Form