A student medical excusal form is exactly what its name states; it is a form that excuses a child from attending school because of an illness that they have. This form may be gotten from school nurses, doctors, etc.
The benefit of this form is that it will tell a school that a child is not in a fit state to attend school. The school can keep this form as a record that they may refer to later.
This form is an important form for the ill child as they may not be allowed to be off from school for many days, but with this form, they can get permission from say their doctor that they cannot currently go to school because of their illness.
Tips on composing a student medical excusal form
The student's details should be indicated, i.e., their name, ID number, grade, etc.
The date can be stated so that when one needs to consult this form, later, they will know the dates the student was ill and not at school.
It can be stated who the student was examined by; it can be a physician, school nurse, office staff, physician's assistant, etc.
The complaint and symptoms of the student need to be stated. These are important as the school may want to know what exactly is wrong with the student.
It needs to be stated how long the student is excused from school. It can be for one day, till the symptoms are gone, etc.
An area for the signature needs to be present.
The contact details of the concerned doctor may be stated in case the school wishes to contact the doctor.
From the above, it can be gathered that a student medical excusal form is an important form as it can be kept by the school and later consulted when they need to remember why a student missed school. It is also helpful to the student concerned as it gives them permission to miss school because of an illness they may have.
Preview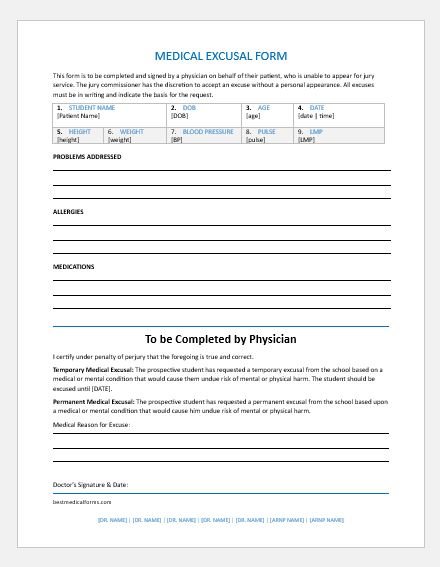 Format: MS Word [.docx] | Download