Medicare Claim Form
Among the various welfare and social security programs that are run by the Federal Governments of many countries, Medicare is a very important element. This is a special type of health insurance cover that is provided to senior citizen whose age group is 65 years and above by the Federal Government of the country. This type of an insurance facility is also available to younger people who meet the criteria of certain physical disabilities and fatal diseases like End Stage renal disease including kidney failure or regular dialysis patients. In various countries Medicare services comprise of different types of insurance covers. These include facilities for inpatient hospital services, outpatient care, medical supplies and preventive treatments.
Some Medicare covers only cater to prescription drugs and medicines. Any person entitled to get Medicare and who fulfill the criteria set by the Government can request for this facility. The claim can be submitted by them through a Medicare Claim Form that can be procured from the insurance company or from the government organization that is responsible for this citizen welfare program.
The Medicare Facilities are for limited people only. Thus, anyone who is 65 years old and above can submit the claim with the evidence of his/her age. Additional persons who can opt for this Medicare claim also have to provide sufficient documentary proof of their disability or fatal disease to make their request eligible for processing the claim. All appropriate information must be provided accurately on the Claim Form.
Preview and download options
Form-1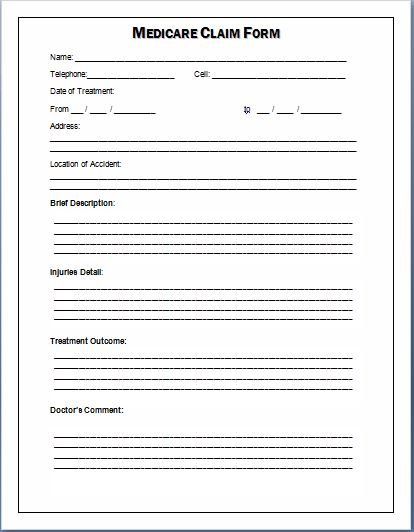 Form-2