What is a minor child treatment consent form?
This form template provides precisely for a parent or even guardian to consent to the treatment of a specified minor child where a medical emergency arises. The guardian needs to carefully consider signing this form as they will be putting the lives of their minor child in the hands of someone else.
By its definition, you can see that it is an important form as parents are giving consent to someone else to treat their minor child when it is necessary.
If you want a form like this, you may find it at a health care provider's office, hospital, clinic, etc. Schools may also have these types of forms which they require all parents to fill in.
Handling minors is a sensitive issue, and no one wants to be accused of handling them wrong. Therefore, this form is necessary.
Tips on composing the minor child treatment consent form
This form can be precise and composed in Microsoft Word.
It needs to indicate the name of the guardian or parent who has given authority to the name of the other individual, doctor, school nurse, etc., and whoever these people may designate to treat the minor child.
The name of the child along with sex and date of birth needs to be indicated.
Signature and printed name of the guardian or parents should be present.
An area for witnesses may be included. This will include their signatures as well as printed name. This may be a good idea to include so that later whether the guardian accuses someone of wrongly treating their minor child, the witnesses can be contacted.
The minor child treatment consent form is a sensitive form as gathered from the above information. Therefore, this form should be properly composed including clearly the approval by the parent or guardian that their minor child can be treated by whom.
This is so that no one can accuse anyone else of wrongdoing. Be sure to make the form such that no loopholes are present that may threaten any party concerned later.
Preview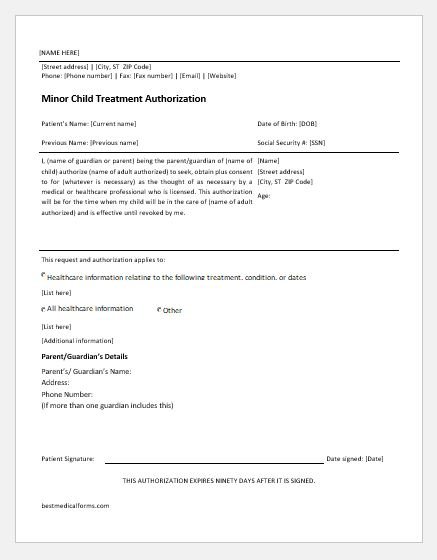 Format: MS Word [.doc] | Download