What is a medical excuse form?
We all get sick or may need to visit the doctor, and this may occur when a certain event or schedule is occurring at school or work.
A medical excuse form is a form that may be signed by a doctor or parent excusing an individual from not attending an upcoming event or the schedule because they have a doctor's appointment.
You may be able to get this form from the doctor at their hospital or clinic. It is an important form as it lets one's teacher or boss know that because of one's doctor's appointment they cannot attend an upcoming event.
Tips on composing a medical excuse form
The student or individual's information needs to be completed by the guardian or parent or the individual. This will include the student or individual's name, date as well as time of appointment, along with the reason for the appointment.
The guardian or individual will then need to sign and may state that they allow the health care provider to give the information requested on this form to the school or office.
An area for the medical professional needs to be indicated.
In this area the time that the student or individual visited the doctor can be present and whether it was necessary for the student or individual to attend this appointment.
The healthcare provider's name along with address, phone, fax, signature as well as data needs to be present. This is so that the school or office can easily contact the healthcare provider if they feel the need to.
From the above, it can be gathered that a medical excuse form is a form that needs to be properly filled by the guardian or parent as well as by the health care provider as it allows a student or individual to miss an event due to an appointment that they have.
The school or employer may keep this medical excuse form as a record, and therefore it is better this form is precise so that it can quickly be scanned when needed. Do not make this form lengthy, include only what is necessary. You can get ideas from the tips above.
Preview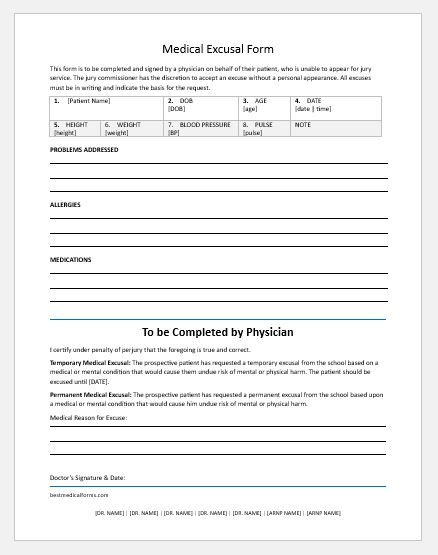 Forma: MS Word [.docx] | Download