MEDICATION INTAKE, LOG & SCHEDULES
Today life has become so fast and hectic that managing day to day tasks is becoming more and more of a challenge. If you are a healthcare provider and looking after a patient or even yourself are taking medication, it is necessary to keep a schedule to remember the medicine you took or gave, the time and dose you took etc.  In addition to remembering this log serves the purpose of an instrument to monitor the dose and medication you took or gave in a specific tenure.
There are some people who are on life long medication for example for chronic diseases such as diabetes or blood pressure etc. With the passage of time and age their short term memory gets weak, so they tend to forget if they took the medicine or which one they took. Looking after such people can be difficult, this schedule  is useful if you are one of these people yourself and you tend to forget about your daily medication or you are the healthcare provider for such personnel.
The daily medication schedule contains the following record:
The name of the patient
The age of the patient
The name of the doctor who prescribed the medication
The date and time the medicine was given
The name of the medicine
The amount of dose given
The name of the person who gave the dose
The reason the medicine is given.
By using the daily medication schedule  your daily routine becomes more manageable.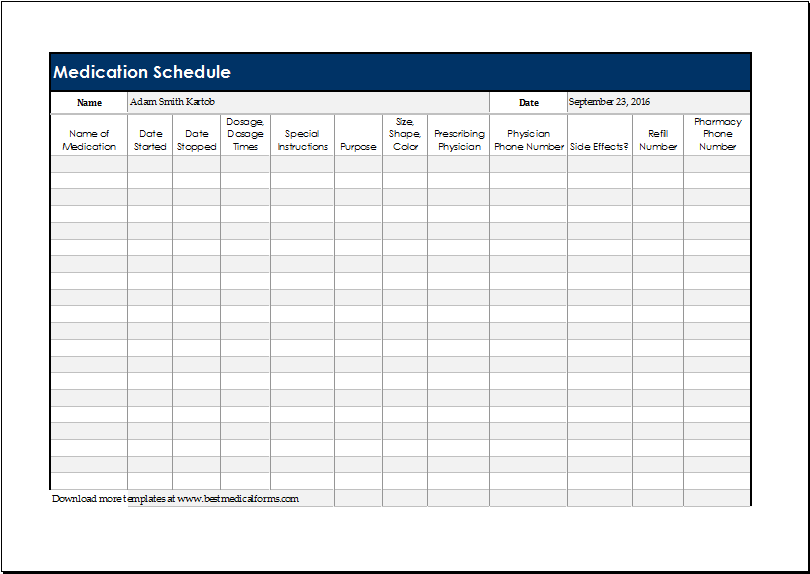 DOWNLOAD: Daily Medication Schedule