What is an adult health history form?
An adult health history form is used to gather health information precisely for a doctor's clinic, hospital or office of an adult individual.
This form is used by doctors when they want to know the medical history of a patient. This is useful as the doctor will know what they are working with. The doctor can remember the past illnesses of the patient concerned with the aid of this form.
This form if properly composed may be such that the doctor can quickly scan through it before the patient visits them. Many patients visit doctors, and the doctor may not remember the history of every single patient. The adult may be visiting another doctor at the same clinic.
The doctor may have therefore never met the patient before. This is where the adult health history form will come in.
Tips on composing the form
The name of the doctor along with their address and phone number should be indicated.
The date needs to be stated.
Have areas where the name, date of birth, age and general health of the concerned adult can be listed.
You can compose a table that states different conditions and whether the patient had them or still has them. This can include asthma, diabetes, seizures, kidney disease, heart disease, fainting, etc. An area for explanations can also be present.
A table that records the medication the patient is currently taking, this can include any over-the-counter drugs as well as herbal supplements. The dosage and reason for the medication can be recorded. Past medications taken may be stated.
Allergies the patient needs to be stated. This is important so that the doctor knows.
Signature of the patient needs to be present.
This form can be composed in Microsoft Word.
Many healthcare provider offices may have this form that adults will need to fill in when they visit the doctor. The form should be precise and simple so that the patient can easily fill it in and the doctor can easily read and understand it before treating a patient.
It is a helpful form for the doctor as they can view the complete health history of the patient concerned.
Preview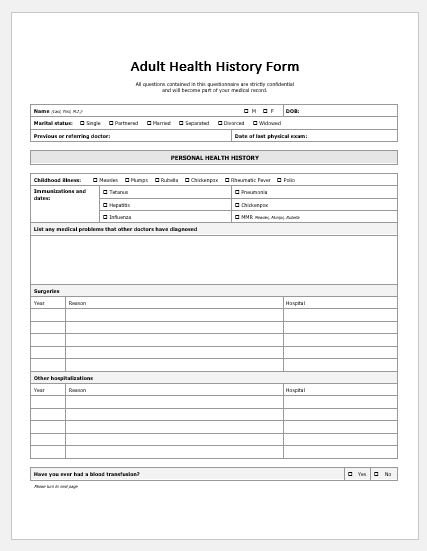 Format MS Word [.docx] | Download