Yearly Physical Examination Form
Know about Yearly Physical Examination?
Some people think that a yearly physical examination is a mean to reassure that they are actually as healthy as they generally feel about themselves. While other people think it as a caution approach that measure their health issues before it gets serious. It is debatable that what should be in a yearly examination and what can be expected from yearly physical examination.
Concept behind using Yearly Physical Exam Form:
Yearly physical examination form is used by the doctors for the patients who visit for yearly physical exam. Doctors generally use this examination form to record different note from yearly physical exam. This record includes some medications, vital statistics, disease prevention, risk factors, health maintenance, and examination and recommendations notes for the concerned patient. These vital signs or statistics include blood pressure, heart rate, respiration rate and temperature of the patient.
Benefits of using Yearly Physical Exam Form:
Through yearly physical examination form, you can mention your different concerns about your feeling about the health. And then your doctor will question you about different things about your lifestyle behaviors including smoking, sexual health, diet, excessive use of alcohol and exercise etc. The doctor will also inquire about your vaccination status and will update medical history of you and your family. Yearly physical exam is thought to be an essential part of life by many people. Although there are no special things to consider in yearly exam but a good doctor will be thorough in his or her approach and will spend a lot of time in listening to your concerns and will provide proper counseling according to your concerns and will mention all the necessary details in the yearly physical exam form for future visits.
Preview and download options:
Sample Form-1  (2-pages)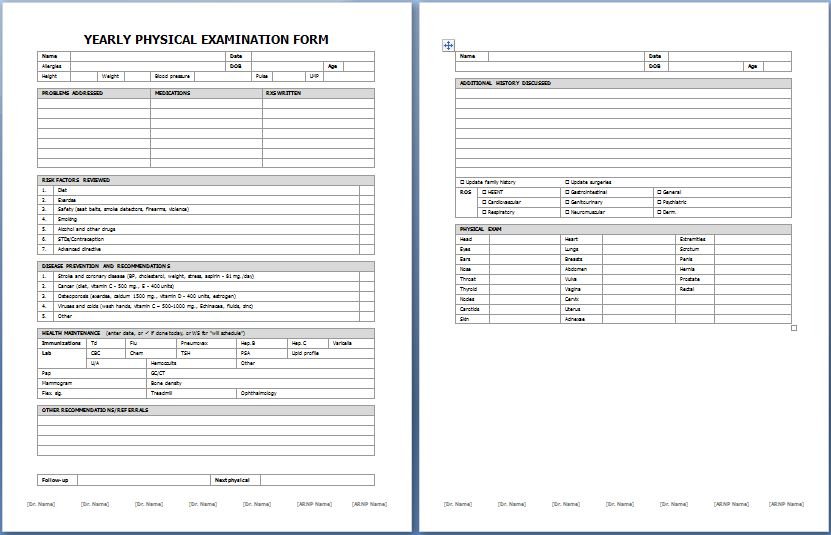 Sample Form-2  (2-pages)