Sample Dental Expense Claim Form
With increase in the awareness for their health and human rights, people are not only concerned about their health insurance and coverage but also look out for good dental plans while searching for a job. Whenever people start a working relationship they should always are their employers for a good dental plan to cover all their dental procedures through insurance relief. For requesting their company for release of payments made by the patient to carry out any dental procedure they need to fill in and submit the Dental expense claim form. This form can be procured from the Human resource department of the company or from their official websites. Accordingly as per the guideline provided, the patient can submit the form physically or electronic along with required documentation and certification.
Any person who is eligible according to the criteria set by the company can claim for this dental expense reimbursement. In many cases the patient is required to file the case three months before the actual claim has to be settled. But in other cases a dental emergency can be declared and certified by the dentist or insurance company to get a reimbursement on urgent basis. A copy of Dental bills and dentist certification can be attached with the dental claim form for validation and proof.
Before submission of the claim you must make sure to fulfill all the requirements stated along with the dental expense claim form so that proper and timely execution of the settlement can be ensured.
Preview and download options are given below.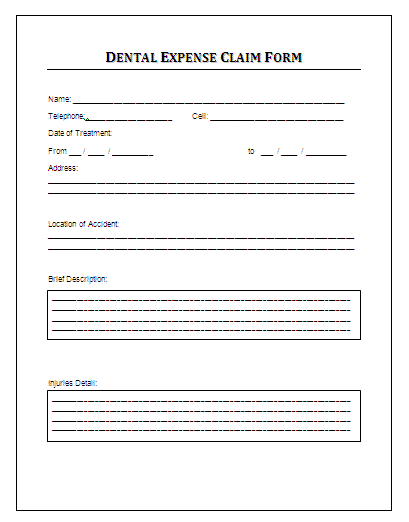 Click here to download Sample Dental Expense Claim Form