Phone Log For Tracking Medical and Service History Form
Phone Log for tracking medical and service history is a detailed form that is utilized by individuals to make records regarding their phone calls and conversations with different professionals. This form is a complete solution for recording all the important information, history and important comments to gather at one place for a ready reference to be used at any given time in future. In a routine life an individual having a full fledged family may has to come across different situations where he needs to deal with different medial and other services professional for routine issues. When you have children as well you might need to be in contact with school management, therapists, physicians, state agency and different other service providers. So for all these things to record in a safe and simple place, Phone Log for tracking medical and service history form is the best solution.
Phone call Log or call log for tracking medical and service history form contains the name of the service provider with whom conversation is made, phone or mobile number, date of conversation, time of conversation, and a comprehensive summary of conversation done during phone call and follow up if required for an ongoing issue. For example if you are in continuous contact with a doctor for any of the patient at your home, you can record all the details mentioned above on this form and this form can be of a great use in near future. This way you will be able to record all the important information which can be forgotten in routine life once the phone call is over. The data can be submitted to medical service center.
Here is a preview of phone log for tracking medical and service history: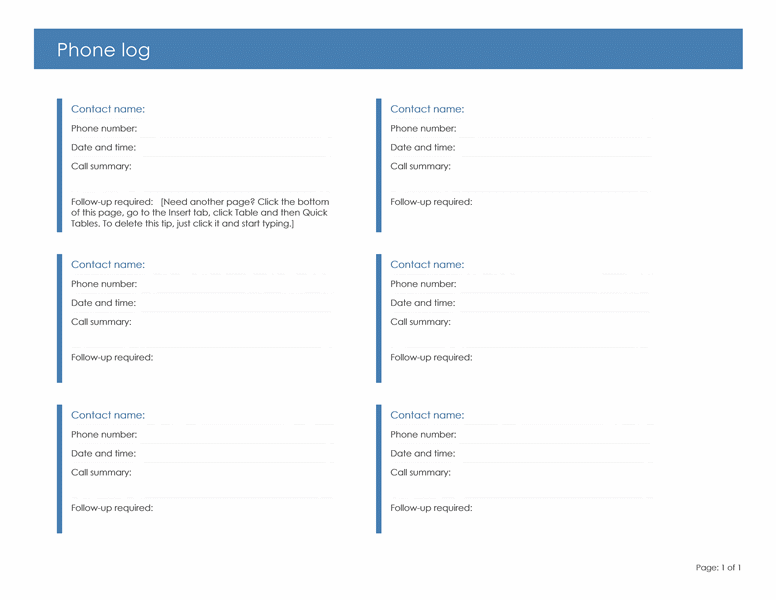 Click here to download phone Log for tracking medical and service history