Patient Progress Notes Forms
Patient Progress Notes Form
Patient progress notes are generally prepared by a physician, nurse, physical therapist, social worker or other relevant health care professionals that describe about the condition of a patient and the planned or given treatment. These notes may be prepared by following the problem focused medial record format. The progress notes prepared by a physician are generally focused on the therapeutic or medical aspects of the patient's care and condition. On the other hand the progress notes prepared by a nurse are generally focused on the stated objectives mentioned in nursing care plan, although the medical condition of the patient is recorded too.
These objectives may be related to different responses to prescribed treatments, understanding or acceptance of a certain treatment or condition, and the ability of performing daily living activities. In an in-hospital environment, patient progress notes are generally recorded on daily basis. While in a office or clinic setting, these notes are generally preceded by an interval or episodic history and are documented and recorded on account of each visit.
Patient progress notes usually look like a blank lined paper that is used for patient charts and this blank paper does not contain much content but patient name, date and the notes recorded by a doctor or nurse for documentation. Progress note is a term traditionally used by a physician to write entries into the medical record of a patient, any other documentation. Some of the other notes written by a physician include admission notes, transfer notes, procedure notes, discharge notes, progress notes sample, nursing progress notes or nursing notes and etc.
Preview and download options
Patient Progress Notes-1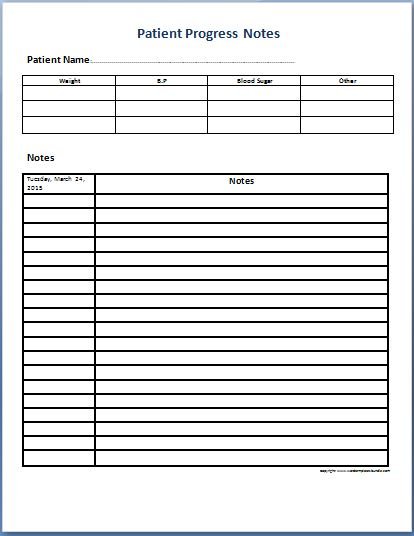 Patient Progress Note-2
Patient Progress Notes-3
Doctors Note Template-1
Microsoft Word File | File size  30 Kb | No. of pages = 2
Doctors Note Template-2
PDF Format File | File size = 41 Kb | No. of pages = 1
Doctors Note Template-3
PDF Format File| File size= 11 KB | No. of pages = 1