Monthly Family Meal Planner
It seems to be a cumbersome job to plan meal for your family for a given period of time and needs a lot of attention and consultation with your family members so that it is planned according to the tastes and liking of the family members. Monthly family meal planner is a template that is designed in a way that you can utilize this template to plan the meal ideas for your busy family. This planner is formatted in Microsoft excel sheet, so you need to input the details of family meal ideas and ingredients having a worth for a month, and this excel sheet will automatically a list of weekly grocery for you. Monthly family meal planner is a great tool of being well organized about the family meal, saving a lot of money and avoiding a handsome quantity of wastes. All these benefits are available by using this meal planner. Once you get use to it, you will find this planner very easy to use. This meal planner also helps individuals in cutting off the quantity of meal in their plates for a month by organizing well. This readymade meal planner serves you as per your requirements by providing interactive shopping list and four weeks full of delicious family meals.
As there is seen a quick up rise in food prices over the period of one year that results in less shopping basket as compared to before. So in this situation, Monthly family meal planner also helps you to make your food shopping within your budget because this planner contains cheap family recipes for four months that will fulfill your family requirements in an efficient manner.
Here is a preview of monthly family meal planner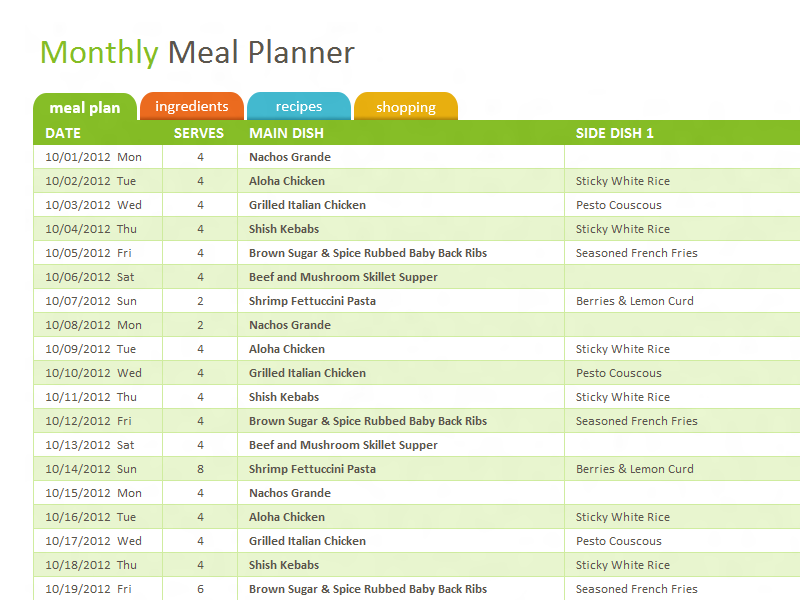 Click here to download monthly family meal planner