MS Excel Blood Pressure Tracker
Blood pressure tracker is a comprehensive sheet that is used to log your heart rate and blood pressure readings and the resulting template will look like a chart that would give you a persuasive visual representation of date you entered and it will be of great help to compare and analyze different readings over a period of time. An individual can have low or high blood pressure problem. The tracker is helpful in recording your heart rate and blood pressure control as there are sections in it to document diastolic and systolic pressures. You should not forget to enter brief notes very next to the entries of your exercise, diet and stress level so that you can see the affects of all these factors onto your blood pressure level. You must need to consult your doctor or healthcare provider to know the ideal target of your normal blood pressure that you should try your level best to main. It is compulsory for all of us to know about low or high blood pressure symptoms.
Blood pressure tracker can be of a great help to you in having good control over blood pressure and that will result in improved health symptoms. In this tracker you can record your target blood pressure recommended by your doctor. Then each time you take the reading of your blood pressure you can fill this information in this tracker in the relevant boxes of time, date, reading and brief notes. You should make sure to enter all the herbal remedies, medicine, exercise, caffeine, diet and any other thing that can affect the levels of your blood pressure. You must track these entire things next to entries of your blood pressure.
Here is a preview of tracker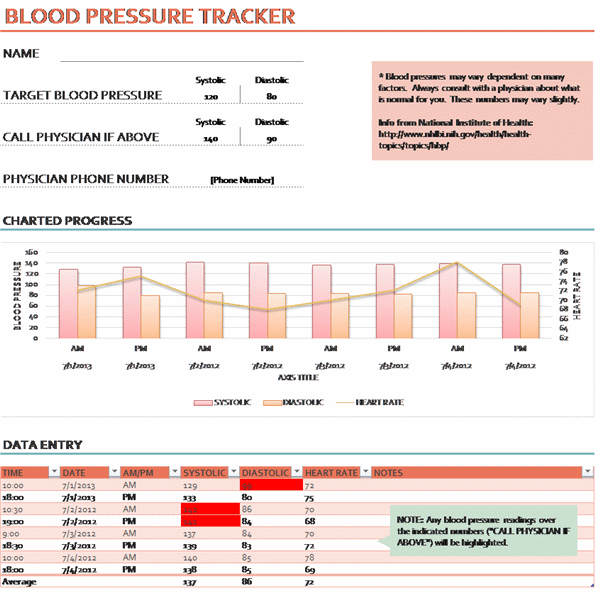 Click here to download blood pressure tracker